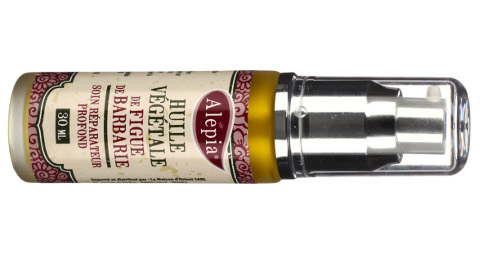 To get the best from this cream of the oils, the company Alepia has selected seeds of Prickly pears in the wild, from exclusively of Syria, not of the fruits from the culture with fertilizers. You should know that it is necessary to collect 800 pounds of figs to extract one liter of oil… production to be confidential, but quality above, the fruits of which have many virtues and visible results after the first applications. Powerful antiride and tightening of the skin 100% natural, this oil is obtained by cold pressing is used in a very focused manner : all the night at bedtime, a drop of oil seed of prickly pear to apply on the area to treat (eye contour, lips, wrinkles) then massage from the fingertips to the face and neck to make it penetrate. Quickly absorbed, this dry oil, gently fragrant, is also effective at the level of the bust.
The 5 advantages of the prickly pear oil : a rate for vitamin E of 1,000 mg/kg (Argan oil contains 620 mg/kg) – a record rate of sterols, antioxidants, anti-free radicals 1,000 mg/100g – 60 % acids, essential fatty acids, the famous omega 6 – a high levels of omega 9 that facilitate the passage of active principles through the hydrolipidic film of the skin. QED !
Available in pharmacies, shops, organic cosmetics and www.alepia.com
– 36 €.
JABÓN NATURAL MÁLAGA COSMÉTICA NATURAL MÁLAGA
Please follow and like us: